Dog Falls Asleep On His Rescuer's Shoulder When He Learns That He Is Taking Him Home
This sweet dog falls asleep on the shoulder of the person who rescued him from the streets when he finally feels safe
Anand Raman was on his way to see his sister on a hot day in Dubai, when he came across a dirty-looking young dog desperately looking for some shade under the parked cars in the office where his sister works. The scene touched the heart of Anand who brought him home.
Something very particular happened when the dog saw Anand; the exhausted animal came running up to the man as one who sees a long-lost friend.
Anand did not imagine that that day would save a life and less that it would end with a dog, but the happy look of the animal captivated him, and when the dog fell asleep on his shoulder he could not be more moved.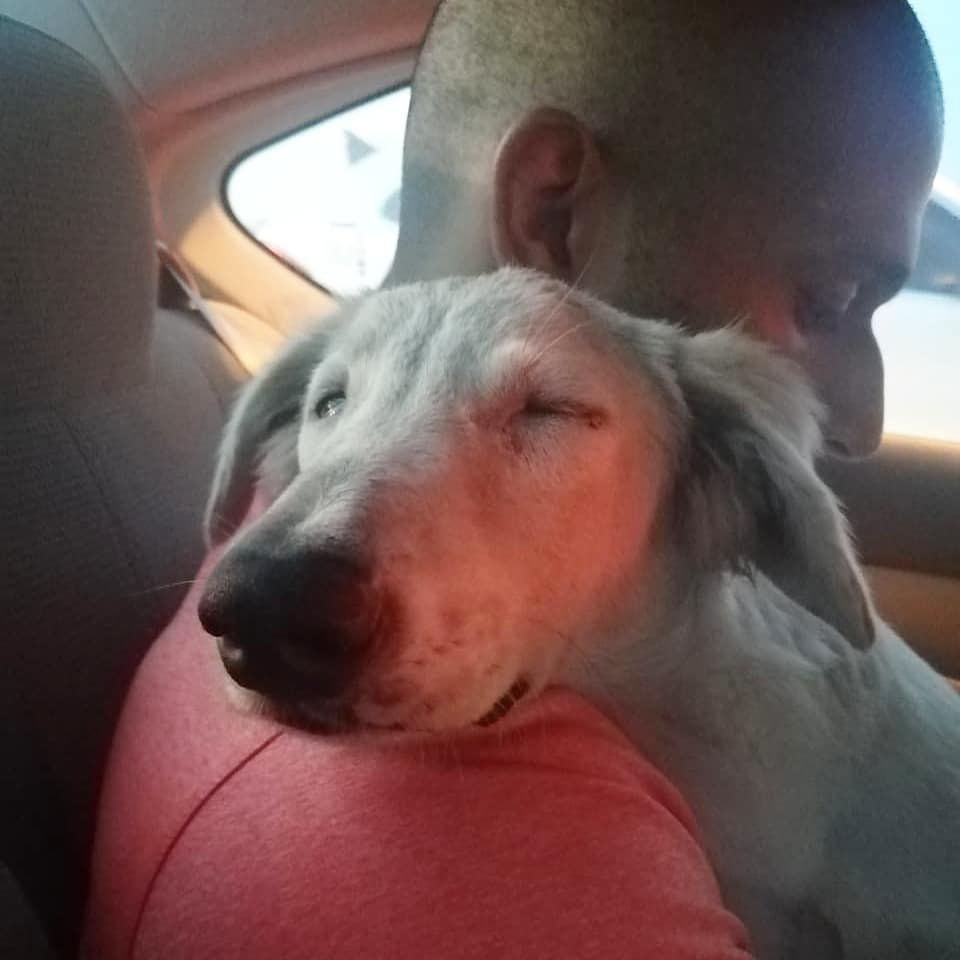 Anand told The Dodo :
"He was under a car eating leftovers that some of his workers had left him. His fur was matted and his legs weren't quite right.
Anand recalls:
"He approached me with a curious but excited disposition, wagging his tail with enthusiasm. This behavior of his is what initially made me fall in love with him. Then we sat there for a while on the sidewalk and he was content to receive my caresses for a while. I took him to the car and he immediately fell asleep on my shoulder.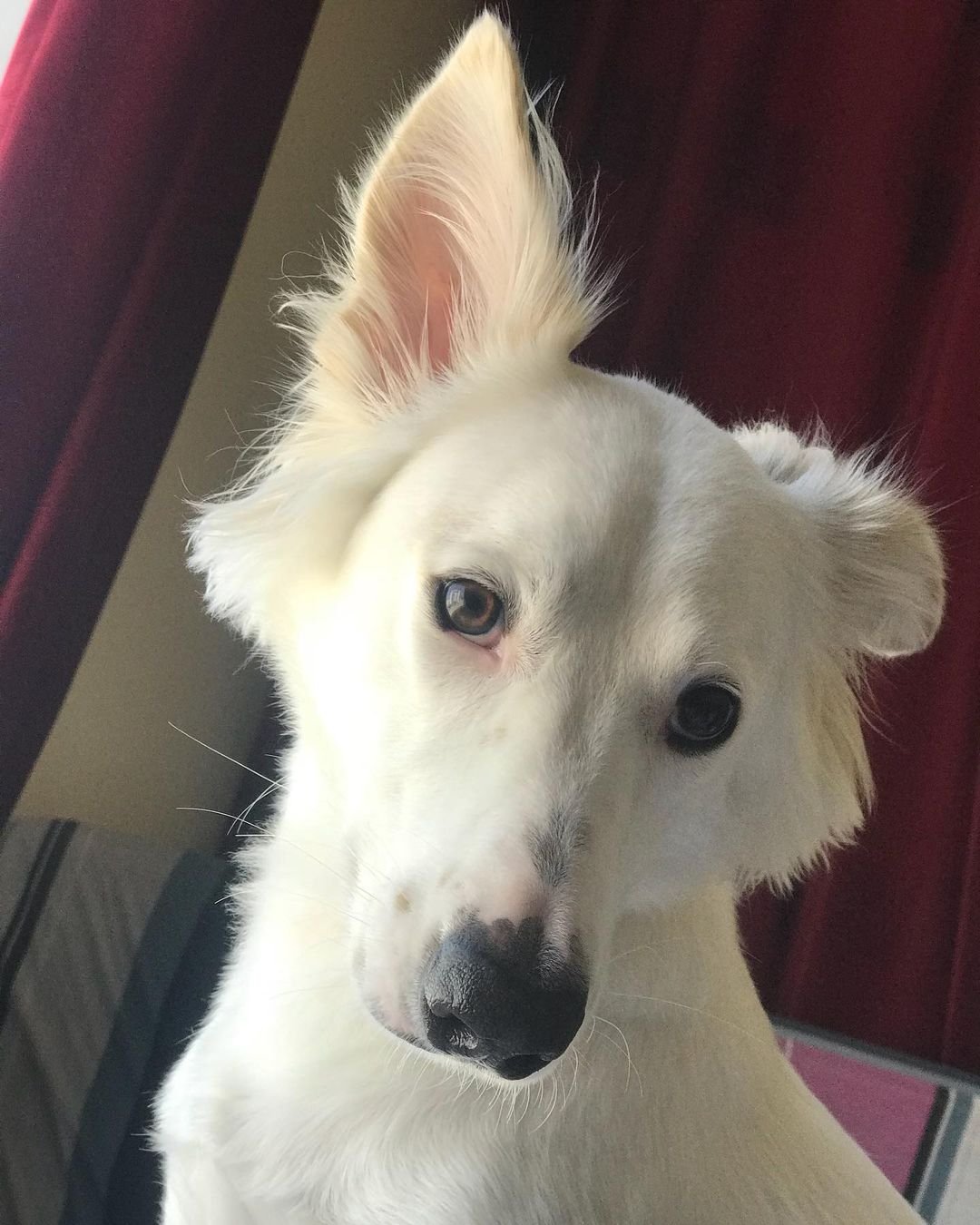 Anand immediately went to the vet with the help of his sister and brother-in-law, while at the clinic they discovered the reason why the dog was constantly reeling; it had rickets in its front legs, this due to severe malnutrition. Fortunately, it was treatable and would have no long-term effects.
Anand recounts:
"He was exhausted when I first grabbed him, so he fell asleep right away on the car ride to the hospital. I was surprised to find that his fur was actually pure white after all the dirt and grime came off his body.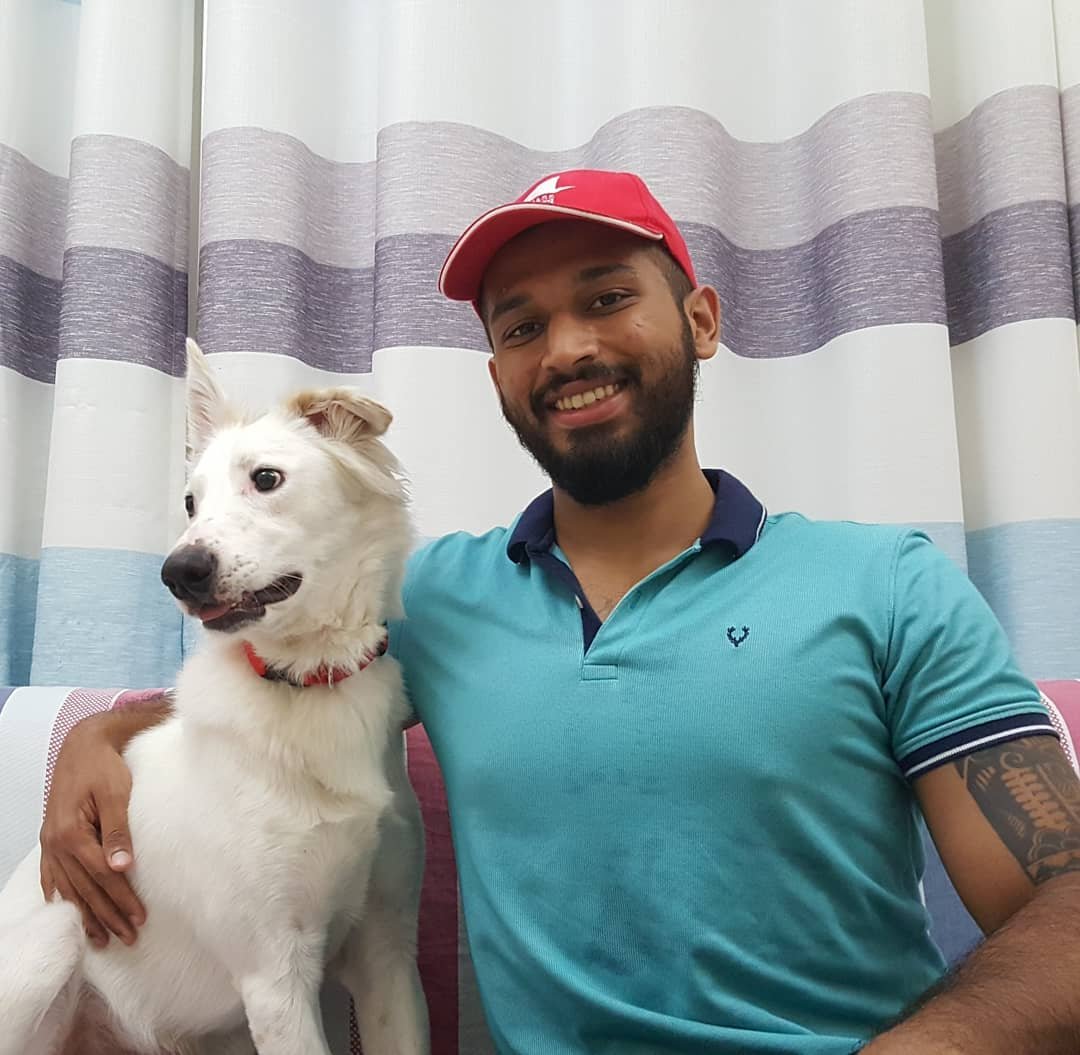 Anand named the dog Snowy because of his white fur, it was a slow process to make him understand that he was finally safe, after all the time the dog spent surviving on the streets. At first when he was at home he would sit in a corner, still not understanding that he finally had a loving home.
Whenever Anand took him out for a walk, Snowy seemed terrified to be back on the streets, and it took a while for him to understand that such a thing would never happen now.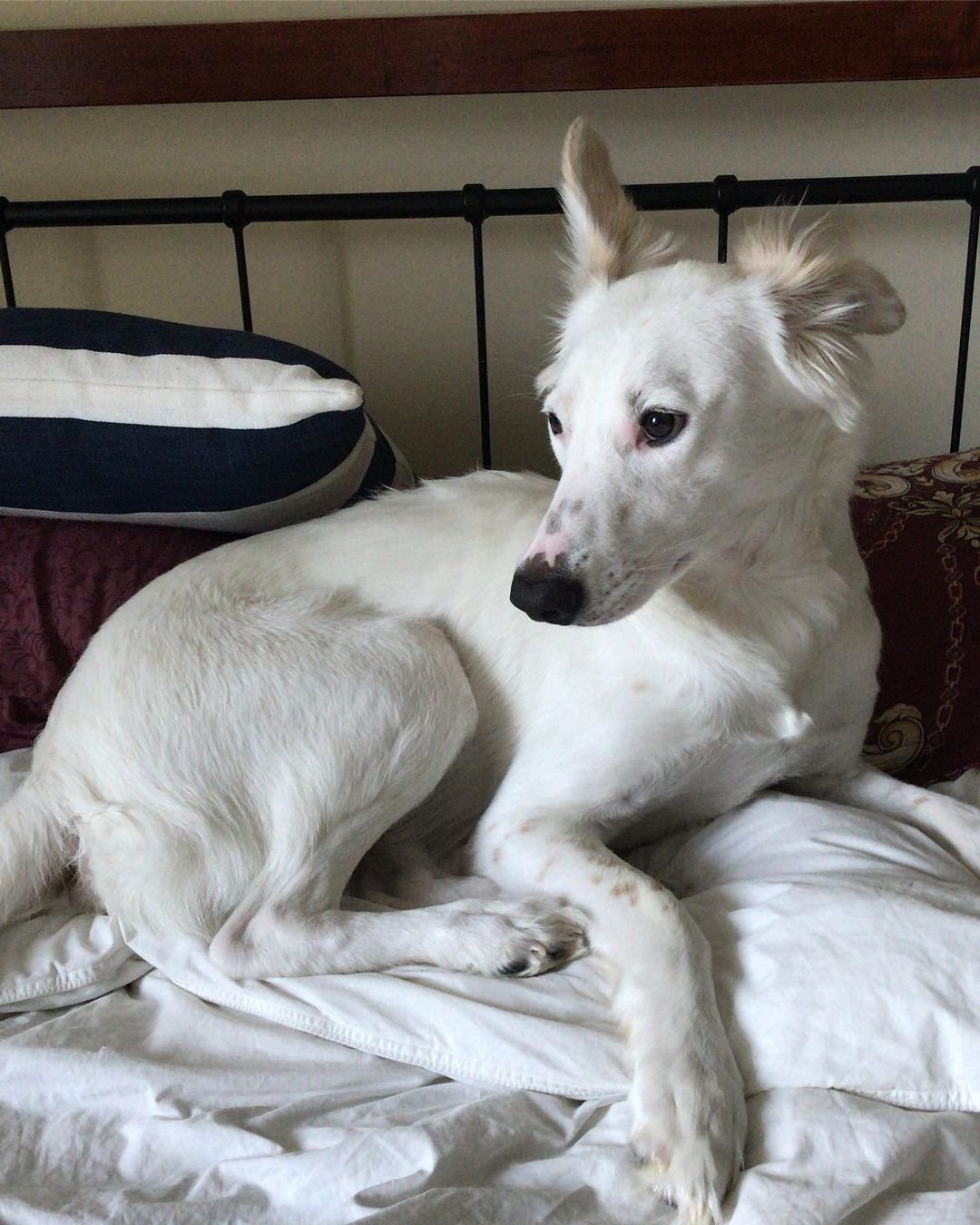 It was a tough road for Anand to finally make Snowy feel safe, but with patience and lots of love she knew she would.
Anand added:
"At first, getting it to fit into a home was not easy. He wasn't sure where to go and what to explore, so he just sat in a corner. When I took him for a walk, I was constantly terrified of being left on the street, so I would take off the leash and run back to our building complex parking lot. This went on for a while until he realized that we weren't going to let him go anywhere quickly.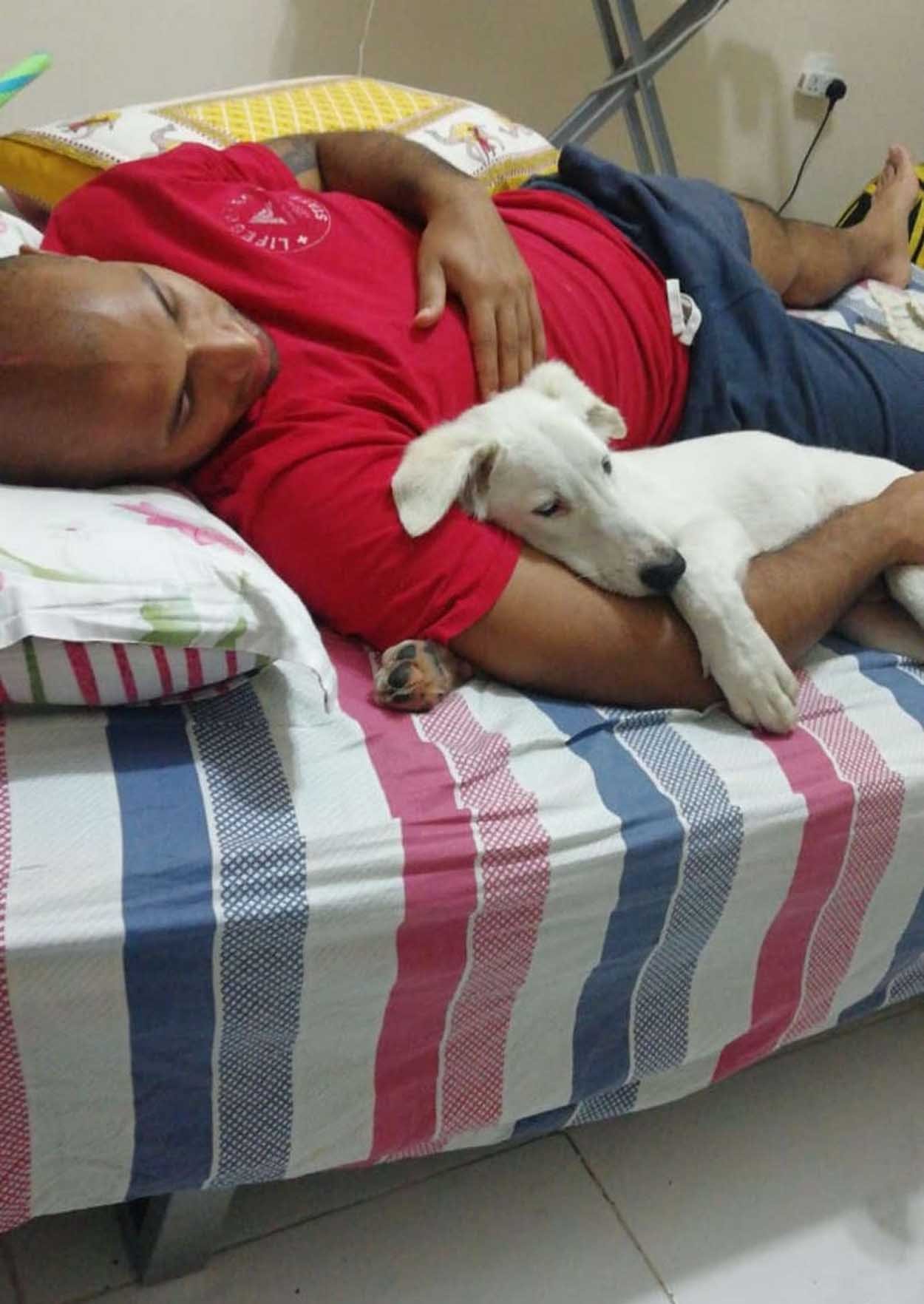 Finally, Snowy understood that his father loves him with all his strength and will never abandon him, he is a very sweet boy and enjoys the hugs and pampering of his father.
Anand finally said:
"He sleeps and waits for us to get home from work, which is when he showers us with love and we return the same to him. He also adapts incredibly well to any dog ​​he meets and is very good with children and guests.