Bullied Oklahoma boy, 7, adopts rescue cat with same rare eye condition and cleft lip
7-year-old Madden was born with a cleft and complete heterochromia iridum, a rare condition where the iris of one eye is a different color than the iris of the other eye. Madden's mother found a rescue cat with the same two conditions and embarked on a road trip from Oklahoma to Minnesota to adopt the sweet kitty and bring him home.
Madden Humphreys and his newly-adopted rescue cat, Moon, were destined to be friends. The cat, which has the same rare eye condition and a cleft lip just like Humphreys, is a source of comfort for the 7-year-old boy who lives "in a world full of bullies."
Humphreys' mom, Christina, said classmates frequently pointed out his cleft palate and heterochromia iridum — a rare condition that causes the iris to be multicolored, which Christina says affects just one percent of the world's population. When she found out a bully on the school bus was poking fun of him last year, she took action.
"The only thing we can do is try to change our perception on bullies, and try to change the way it affects us," Christina told her son. "Unfortunately, there will probably always be an unkind person that we'll encounter. It will always sting and hurt, but we can't control other people's behavior, so we will just try our best to change our own mindset."
She encouraged him to create a video to explain his unique qualities and remind friends to be kind. The June 2017 video was popular, garnering more than 220,000 views and 3,500 shares. Humphreys was happy to make a difference. But Christina still wasn't convinced her son was back to his normal, spunky self.
So when she heard a kitten with a cleft palate and two different colored eyes was up for adoption last week, she knew the animal had to be part of their family.
"Funny how a pet can make you feel less alone," Christina wrote in a post for blogging site Love What Matters, explaining she heard about the cat on a Facebook support group for cleft lips. "Moon helps Madden realize that being born unique is an incredible thing; that he is magic."
With financial help from friends, the Oklahoma family took a roadtrip to Minnesota over the weekend to pick the kitten up from a rescue group.
"We're usually not spontaneous people, but we knew that we were meant to love this kitty," Christina said. "Moon, the kitty, and Madden are the perfect companions for each other."
The pair has been inseparable ever since.
"Funny how a pet can make you feel less alone."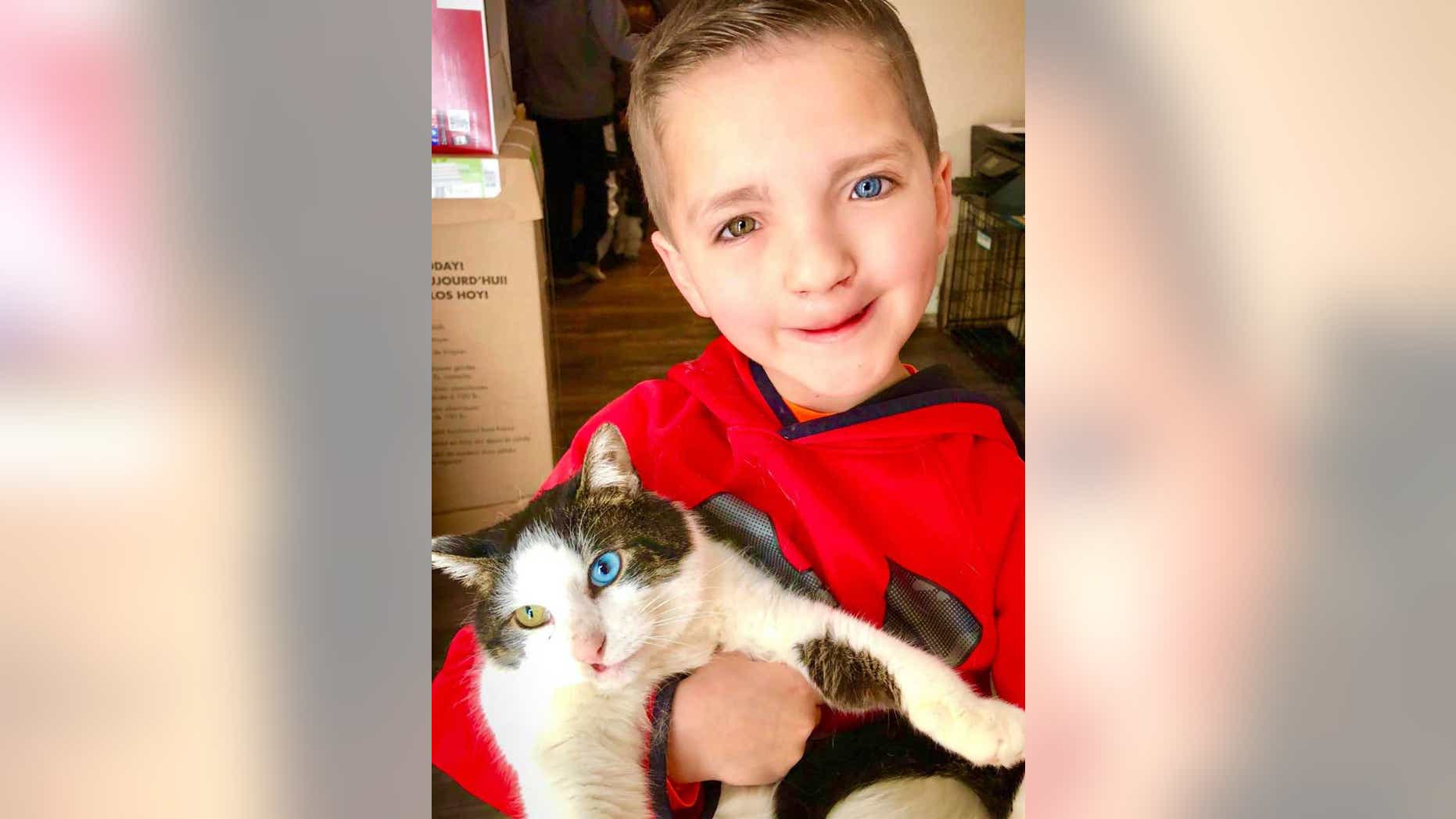 "It sounds silly, but fate willed these two together. There's no other explanation," Christina said. "Everyone needs a friend, and everyone needs to feel understood. I'm so thankful Madden has Moon."
Love What Matters shared Humphreys' story on Facebook Tuesday, receiving more than 25,000 likes on the post and thousands of comments.
"I see no reason why anyone would bully Madden because of his eyes, in my opinion his eyes are unique and absolutely beautiful," one Facebook user commented. "I believe his confidence will soar as he grows up and more and more people will appreciate and compliment his eyes."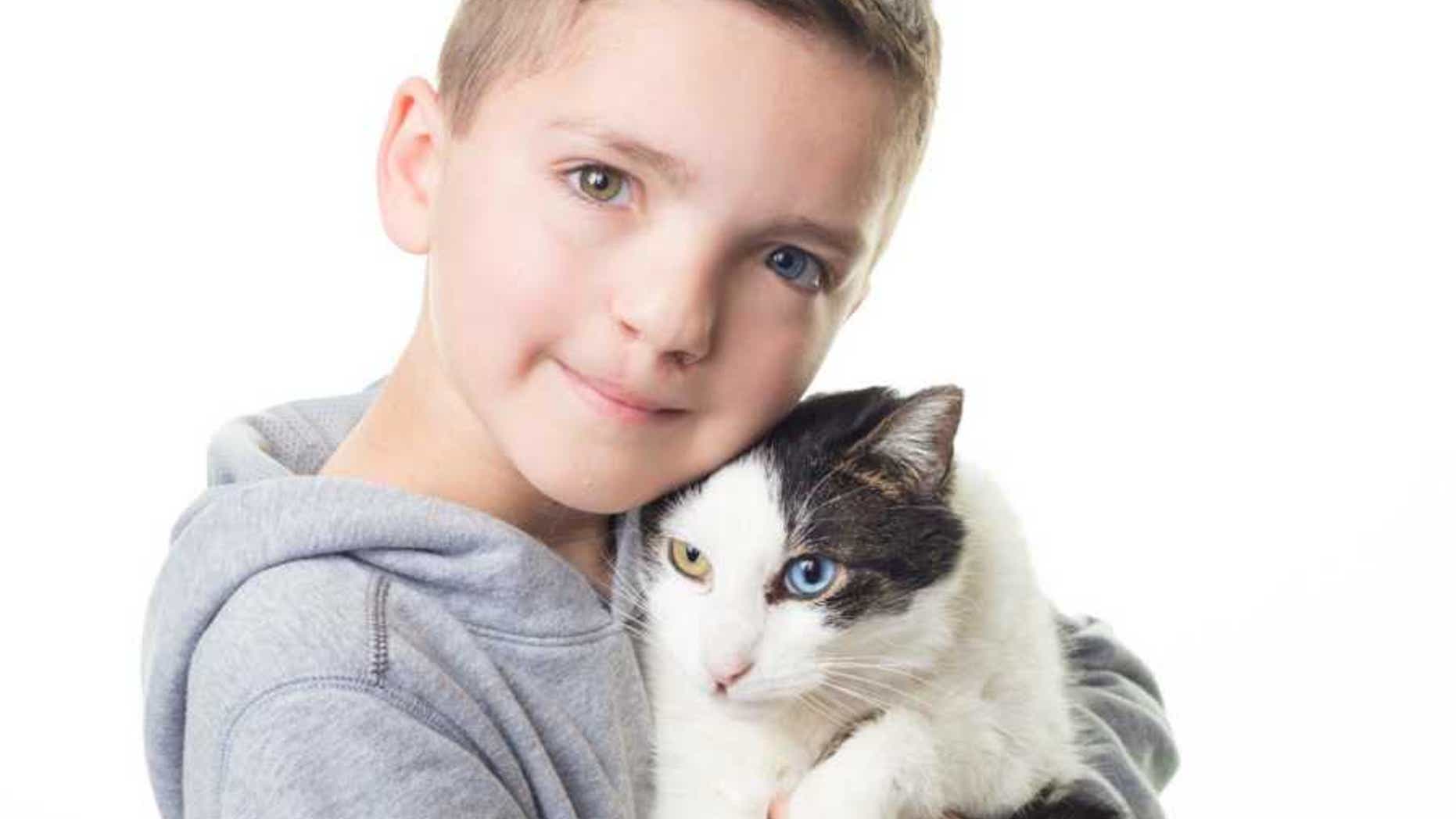 Madden Humphreys and Moon the cat are now best friends, his mother, Christina, says. (Christina Humphreys)
"Be proud to be part of the 1% – and blue/green combo is the most unusual," a woman with heterochromia iridum wrote. "When I was your age I didn't appreciate the attention – but people remember you!"
"My son with autism (9 years old) looked at the photos, smiled widely and said: 'See, wonders do exist,'" another added.
Christina said she never expected her son's story to go viral, but now she's hoping to keep the trend going by starting an Instagram for the best friends called "Madden and Moon."
"It started out as fun for the family and friends who knew Madden's story, but if it can raise awareness for clefts, and maybe even spread a bit of kindness and positivity, we think that's a good thing," she told Fox News.