Stray Dog Won't Leave Without Friend-Then Trucker Decides That They Need To Be Together
When Dan O'Grady, a truck driver, passed a little abandoned dog on the side of a highway in Jacksonville, FL, he felt a sense of guilt, and immediately exited the freeway, and hoped to get back to the dog before anything could happen to him. And he was in luck.
As he pulled over to help the little Jack Russel terrier, he noticed just how skinny this dog was. When he went to approach the dog, he just yapped and ran away. Every time. And he kept on running.
The dog led Dan into the woods, because after some time, it was clear to him that the dog wanted him to see something. And when the dog stopped at a bush, Dan looked underneath and saw a white domestic rabbit, just huddled underneath.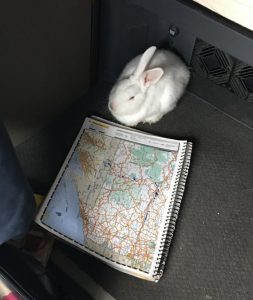 Dan scooped up the rabbit and went back to his truck while the dog followed without complaint. It was then that he named the two Highway and Interstate.
Dan took the little frightened animals to get some food, noticing how starved they were. He got sandwich meat for the dog, and got some salad for the rabbit. He then proceeded to take them to an animal shelter, but they were only able to take the dog. So he began to head to another shelter where they gladly took the little malnourished bunny.